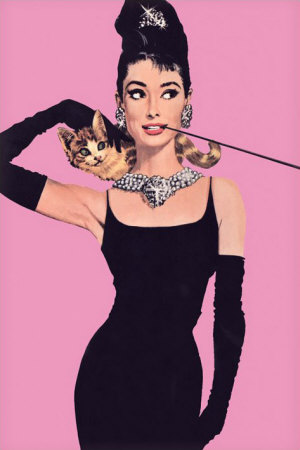 Jeg syntes lige at jeg ville dele nogle gode citater med jer:
"I believe in pink. I believe that laughing is the best calorie burner. I believe in kissing, kissing a lot. I believe in being strong when everything seems to be going wrong. I believe that happy girls are the prettiest girls. I believe that tomorrow is another day and I believe in miracles."
"I love people who make me laugh. I honestly think it's the thing I like most, to laugh. It cures a multitude of ills. It's probably the most important thing in a person."
―
Audrey Hepburn
"Count your age by friends, not years. Count your life by smiles, not tears."
―
John Lennon
"I believe that everything happens for a reason. People change so that you can learn to let go, things go wrong so that you appreciate them when they're right, you believe lies so you eventually learn to trust no one but yourself, and sometimes good things fall apart so better things can fall together."
"Imperfection is beauty, madness is genius and it's better to be absolutely ridiculous than absolutely boring."
―
Marilyn Monroe
"Two things are infinite: the universe and human stupidity; and I'm not sure about the universe."
"The first of April is the day we remember what we are the other 364 days of the year!"
"In three words I can sum up everything I've learned about life: it goes on."
"Nowadays people know the price of everything and the value of nothing."
"Be yourself; everyone else is already taken."
...og der er mange flere, men det kommer til at tage lang tid at skrive dem alle ned. ;) Derfor vil jeg foreslå jer at besøge
goodreads
. Der er masser af dejlige citater - og ikke mindst dejlige bøger.
Dette er min yndlings citat:
"It matters not how strait the gate,
How charged with punishments the scroll,
I am the master of my fate:
I am the captain of my soul."
―
William Ernest Henley
,
Echoes of Life and Death;
- Grunden til at det er mit yndlings, er selvfølgeligt at det har et godt og vigtigt budskab - ligesom alle de andre citater nævnt her - som jeg personligt kan forholde mig til. Det her citat fortæller mig at jeg er privilegeret med friheden til at bestemme over mig selv. Jeg kan være den jeg er, og styre mit liv i den retning jeg vil have det, og ingen har ret til at holde mig fra det. Også selvom det nogle gange kan være hårdt at leve og skulle træffe beslutninger, er det også en stor og fantastisk ting, fordi jeg har fået selvstændighed, sund fornuft og viljestyrke i gave som menneske.
Det er faktisk en ting nogle mennesker ikke tænker over, eller værdsætter - jeg glemmer det også selv af og til.
Også er det godt, at disse ord kan inspirere mig til at leve det liv mit hjerte og min sunde intuition leder mig hen mod.